Secure Communication Simplified
Voice calls, instant transfer of messages and files.
Ultimate security. Guarantee of confidentiality.

Trusted Communication Tool
Easy to install, SafeChats provides a military-grade protection of text messages, file transfers and voice calls.
Simple and friendly SafeChats is all you need to feel secure every day!

Secure Solution for Your Business
We are pleased to offer you a high-performance, intelligent and feature-rich product.
Created with a security in mind, it's been designed committed to your privacy.
SafeChats — is a cross-platform solution, which ensures a military-grade security of your business and private communications. SafeChats either can be used as a standalone solution or can be integrated with an existing software infrastructure.
Easy-to-install SafeChats is available for PC, Mac, iPhone, iPad and Android devices. SafeChats is always with you!
Is the data you daily deal with sensitive? We know how critical to keep it safe.
Enrich your data management and simplify your communication flow in a secure way!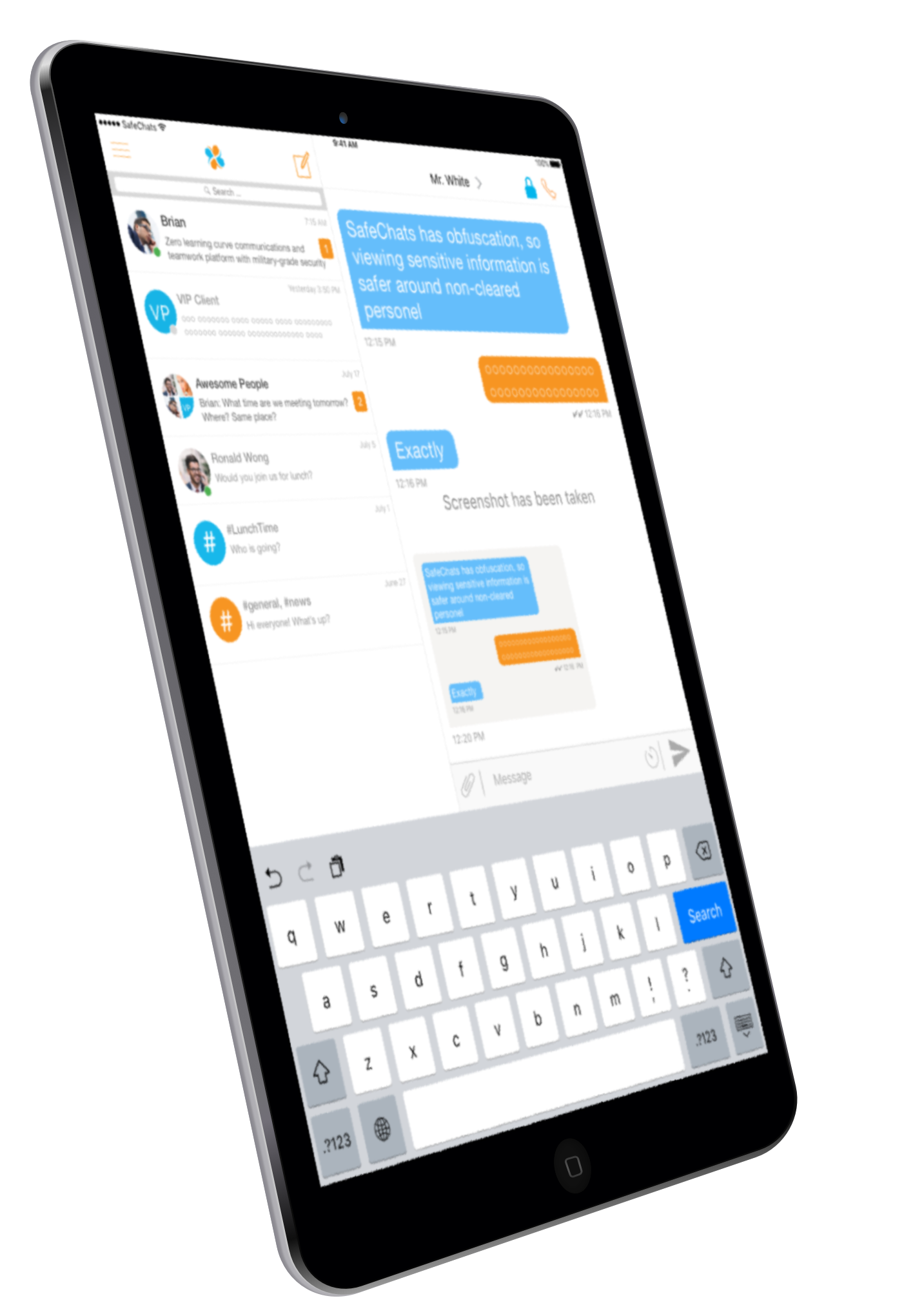 FINANCIAL SERVICES
Private equity, portfolio and wealth management, hedge funds, mortgage brokers, non-banking credit firms
TRADING COMPANIES
Secure data flow guaranties financial results and partnership exclusivity
LAWYERS
Total control over the data exchange prevents its illegal use
AGENCIES
Marketing, creative, events and even travel agencies must be committed to the clients privacy
INSURANCE
Data-at-rest security management across the entire organization prevents a legal, regulatory and the risk of data breaches
Privacy     Security     Business
Privacy
Screenshot prevention. 
Password-protected access to the app.
Ability to hide sent and received messages and files.
Ability to delete sent messages from the receiver's device.
Self-destructing messages and history retention control.
Security
Additional user identity verification process ensures your message is received by intended recipients only.
End-to-end encryption safely protects messages, files in transit, as well as calls, and guarantees access to data exclusively to intended recipients.
Business
Ability to launch the product under your own brand. 
Integration with existing company's software infrastructure.
Isolated server infrastructure under your control and governance.
Centralized user and account management.
Customizable settings and design.

Henrietta White
Managing partner of an investment fund
" We always in touch with our clients. SafeChats Enterprise Edition makes the communication flow efficient while keeping it secure. It's brilliant! "

Chang Lee
Vice-president of international resource trading company
" First we implemented SafeChats within our team. Today I use it to chat with my family and friends. I feel it better than most of messaging apps I have already used! "

Simon Goldman
Founder of Golden Lawyers Club, 25+ years of legal practice
" Security as it is, no compromise. Trustful! Proved by our club's members. "

Georgia Garcia
Marketing manager of a digital creative agency
" For a couple of years I was looking for a solution to ensure my own and business privacy. Finally I found it – SafeChats makes me feel safe and secure! "

Victor Aneryee
Independent mortgage broker
" I have my own application, launched under my brand on the App Store. SafeChats helps me to keep loyalty of my customers. It's not about security only, SafeChats offers more. "