SafeChats Product Version
---
SafeChats Basic is totally FREE product version! Ideal for:
Secure one-on-one or small-groups communication
Safe transmission of messages and files
Confidential calls
What is Basic by SafeChats? 
Group chats, unlimited number of group members
Self-destructing messages and files
Protection from screenshots
History retention control and history search
Swipe-to-reveal feature to hide messages and files on screen
Ability to delete already sent and received messages and files
End-to-end encryption of text message, file exchange and voice call
Hide from task manager and message text of on-screen notification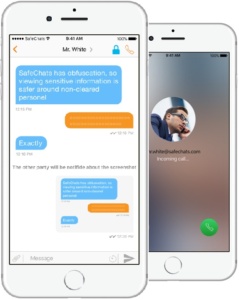 ---
Build customers' loyalty and trust with SafeChats Business! Ideal if:
You are a business owner, an executive or a manager of a company or a project
You understand the importance and the value of secure communications
You want to have your own messaging application for an internal and an external communications
SafeChats Business includes all functionality of Basic, plus:
Get a corporate messaging app with your own brand identity. Use your corporate logo and color theme, onboard the entire Account management team and a pull of your customers in minutes
Centralized account and contact list management helps to provide a great user experience by simplifying the on-boarding process for employees and customers. Administrators can manage contact lists for each user within the organization individually, invite new users, assign administrator roles, deactivate accounts, wipe account data on devices remotely.
Make secure conference calls. With SafeChats it's surprisingly easy!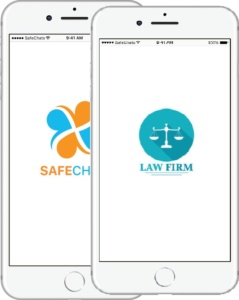 ---
Get total control over your data flow with SafeChats Enterprise. Ideal for:
Safe and effective work within your organization
Integrate the messaging app with a CRM or any other existing software solutions used within the organization
Implement a single sign-on (SSO)
SafeChats Enterprise includes all functionality of Business, plus:
The messaging app will be publishes under your own brand.
Custom Features on Request
Personalized app settings and design, custom features.
Make secure conference calls. With SafeChats it's surprisingly easy!
With an existing software infrastructure (SSO, CRM and other systems).
Isolated Server Infrastructure
Own private cloud or on-premise installation.
Multiple Accounts and Temporary Accounts for Guests
Ability to switch between multiple accounts without logging out of the app.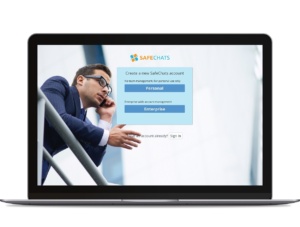 CENTRALIZED ACCOUNT MANAGEMENT
• Create new user accounts
• Invite new users
• Manage user accounts and their contact lists
• Delegate administrator roles to other users within the organization
• Block accounts within the organization
• Completely delete all conversation history of the blocked account
CONTACT LIST MANAGEMENT
Manageable contact list simplifies the on-boarding process. Once new users log in, the contact list is already set and the account is ready to use right away.
Administrators can:
• Pre-populate contact lists for new users
• Individually manage contact lists for each single user within the organization
GROUPS MANAGEMENT
Simplify navigation between departments and projects!
Administrators can:
• Create as many groups as needed
• Add new members to the group
• Configure group profile
• Enable administrator rights for group members
• Individually manage members lists for each group within the organization
GROUPS MANAGEMENT
Get the own application launched under your personal or corporate brand! (White label is available for the SafeChats Enterprise edition only).
Administrators can:
• Create your own application style using corporate logo and color theme with SafeChats Pro
• Customize app settings 
• Integrate your new app into existing software infrastructure 
• Individually manage members lists for each group within the organization
Get SafeChats Enterprise Edition Guide NOW
Learn more. Download our Customer Booklet